Actor
Bill Treacher
Born
4th June 1930
First appearance
Menace from the Deep
Last appearance
Series
3
Episode count
1
Bill Treacher
 (born 4th June 1930) played a one-shot character in an episode of 
Dad's Army
.
Biography
Edit
Early life and career
Edit
In 1930, Bill Treacher was born and grew up in the East End of London. After his national service in the RAF, he worked as a P&O steward and made himself enough money to go to drama school.
Early acting career
Edit
Having graduated from the Webber Douglas Academy of Dramatic Art, Bill made his television debut in 1961 on ITV's Television Playhouse.
Dad's ArmyEdit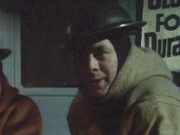 Bill appeared as a soldier alongside
Larry Martyn
 during the first shot of the third season episode, 
Menace from the Deep
.
Other acting work and later career
Edit
Bill is best remembered for playing Arthur Fowler in EastEnders; when the soap celebrated its silver anniversary in 2010, his character was ranked 14th out of the 100 Greatest EastEnders Characters of All Time.
Bill has now retired from acting due to Ataxia.
Ad blocker interference detected!
Wikia is a free-to-use site that makes money from advertising. We have a modified experience for viewers using ad blockers

Wikia is not accessible if you've made further modifications. Remove the custom ad blocker rule(s) and the page will load as expected.