Actor
Eric Woodburn
Born
9th March 1894
Died
1981 (aged 86)
First appearance
Museum Piece (television) Museum Piece (radio)
Last appearance
Series
1 (television and radio)
Episode count
1 (television and radio)
Eric Woodburn
 (1894 – 1981) played
George Jones
in the 
Dad's Army
franchise.
Biography
Edit
Early life and career
Edit
Eric Woodburn was born in Glasgow, Scotland.
Early acting career
Edit
For some years, Eric was part of the Windmill Theatre.
Dad's ArmyEdit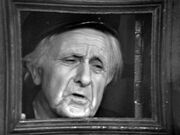 In both the television and radio version of 
Dad's Army'
s second first season episode
Museum Piece
, Eric played
Lance Corporal Jack Jones
' 88 year old father George, the caretaker of the Peabody Musueum of Historical Army Wapons.
Final years and death
Edit
Eric Woodburn died in London 1981, aged 86.
Ad blocker interference detected!
Wikia is a free-to-use site that makes money from advertising. We have a modified experience for viewers using ad blockers

Wikia is not accessible if you've made further modifications. Remove the custom ad blocker rule(s) and the page will load as expected.