Nan Braunton
 played
Cissy Godfrey
 in the second and third television series and the first and second radio series of
Dad's Army
.
Biography
Edit
Early life and career
Edit
Braunton was born in Cardiff. It is claimed that in her youth, Minnie Bevans (stage name: Nan Braunton) was a nanny to Jack, Barry and Roger Livesey, three brothers who later went on to become actors.
Early acting career
Edit
Remaining a family friend to the Livesey brothers, Minnie decided to take up acting herself, changing her name to Nan Braunton after the title that Jack, Barry and Roger gave her when they were children. She made her debut in the 1953 film Will Any Gentleman...? and after that, she appeared in various stage, film, radio and television productions, including The Grove Family, Yorky and Dixon of Dock Green.
Dad's ArmyEdit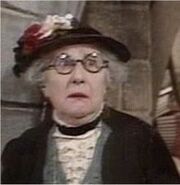 Nan played
Private Godfrey
's sister Cissy in the second season episode
The Battle of Godfrey's Cottage
 and the third season episodes,
The Day the Balloon Went Up
,
War Dance
and
Branded
. She also played her in the radio versions of
The Battle of Godfrey's Cottage
and
Branded
. In the eighth season episode 
Is There Honey Still for Tea?
, Nan's part was given to
Kathleen Sainsbury
 and then by
Arthur Lowe
's wife
Joan Cooper
in the radio version.
Final years and death
Edit
Nan Braunton died in 1978 at her home in Hillingdon, London.
Ad blocker interference detected!
Wikia is a free-to-use site that makes money from advertising. We have a modified experience for viewers using ad blockers

Wikia is not accessible if you've made further modifications. Remove the custom ad blocker rule(s) and the page will load as expected.