Patrick Waddington
 (1903-1987) played a brigadier in 
Dad's Army
.
Biography
Edit
Early life and career
Patrick Waddington was born in York. Born of a long line of piano manufacturers, he was educated at Gresham's School in Holt, North Norfolk.
Early acting career
Edit
Playing both leading roles and later character roles, Patrick appeared in over twenty films.
Dad's ArmyEdit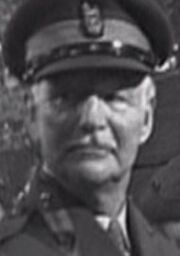 Patrick played the brigadier in
The Showing Up of Corporal Jones 
and 
The Loneliness of the Long-Distance Walker
.
Final years and death
Edit
Patrick Waddington died back in York, February 4th, 1987,aged 83.
Patrick was also an author, singer and stage manager of the Theatre Royal in York.
In 1951 he became the 

General Secretary of the Actors Charitable Trust.
Ad blocker interference detected!
Wikia is a free-to-use site that makes money from advertising. We have a modified experience for viewers using ad blockers

Wikia is not accessible if you've made further modifications. Remove the custom ad blocker rule(s) and the page will load as expected.