The Battle of Godfrey's Cottage
is the second episode of the second series of
Dad's Army
, which was originally transmitted on Saturday 8 March 1969.
After the church bells ring to signal an invasion from the Germans, Mainwaring, Wilson, Jones, Frazer, Pike and Walker all go to Godfrey's Cottage and start fighting the "Germans."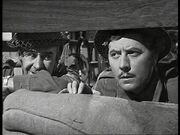 While most of the platoon are on their way to the cinema to see a training film, the church bells ring, and Mainwaring, Jones and Frazer take up a defensive position at Godrey's cottage. Wilson, Pike, Walker and Sponge can't find the others, and, leaving Sponge behind at the command post, head to Godfrey's cottage. There they see Jones, wearing one of Godfrey's old German helmets, and fire at him. Meanwhile, Godfrey's sisters shake a tablecloth out of the window, which is interpreted by Wilson as a surrender. In the end,
Sponge
and the rest of the platoon who mistakes them as Germans; starts firing on Mainwaring and Wilson, Mainwaring quickly orders Wilson to wave something white.
This episode was missing from the BBC's television archives for many years and were thought to be lost forever. However in June 2001 this episode and Operation Kilt were returned to the BBC after almost 25 years. The containers that the episodes were held in were in apoor condition and the film's quality had deteriorated. Following laborious work by a restoration team, it was restored and re-transmitted
However despite the excellent work undertaken to restore the film, a short part of the film towards the end of the episode (during the scene where the warden bursts into Godfrey's cottage) was unrecoverable, so is still 'missing'
This episode was originally titled 'The Battle of Mon Repos'
Ad blocker interference detected!
Wikia is a free-to-use site that makes money from advertising. We have a modified experience for viewers using ad blockers

Wikia is not accessible if you've made further modifications. Remove the custom ad blocker rule(s) and the page will load as expected.