Walmington-on-Sea was a seaside town. Located on the channel coast of England near Eastbourne in Sussex, it was part of the national "front line" following the evacuation of the British Expeditionary Force from Dunkirk during the Second World War.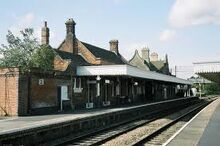 Amenities
Edit
Walmington-on-Sea had a pleasure pier, with a 20-foot-wide gap (6.1 m) blown in the middle to prevent it from being used as a landing stage by invading forces. The beach is lined with barbed wire and other defences, including mines, pill boxes and anti-tank blocks.
There was a sweet shop, The Novelty Rock Emporium, at least one bank (Swallow Bank, run by George Mainwaring), the Marigold tea-rooms, Anne's Pantry, the Dutch Oven, a butcher's shop, greengrocer's, undertaker's and numerous pubs including the Red Lion, which all suggest it was a reasonably-sized place. Like most British towns, it also had a church, Saint Aldhelm's, with a hall next door which was used for community acts such as putting on a Christmas pantomime and a place for the sea scouts to parade.
Although it is never specified where the town is, there are several references to Hastings, Eastbourne and Dover which suggests that it could be based on Bexhill-on-sea, although Bexhill has no pier and is not in Kent. Deal in Kent has been suggested since it has a pier and is next to Walmer: possibly the inspiration for the name "Walmington". Another suggestion is the town of Wilmington in Kent.
In reality, outdoor TV scenes were filmed at Thetford, an inland town in Norfolk, thus giving no clue as to the scriptwriters' preferences. The 1971 film moved location to Chalfont St Giles, even further from the coast.
Notable Residents
Edit
Ad blocker interference detected!
Wikia is a free-to-use site that makes money from advertising. We have a modified experience for viewers using ad blockers

Wikia is not accessible if you've made further modifications. Remove the custom ad blocker rule(s) and the page will load as expected.